Boddam and District Community Association Webpages

Stirlinghill Quarries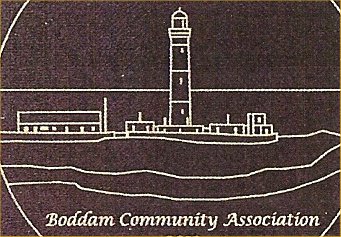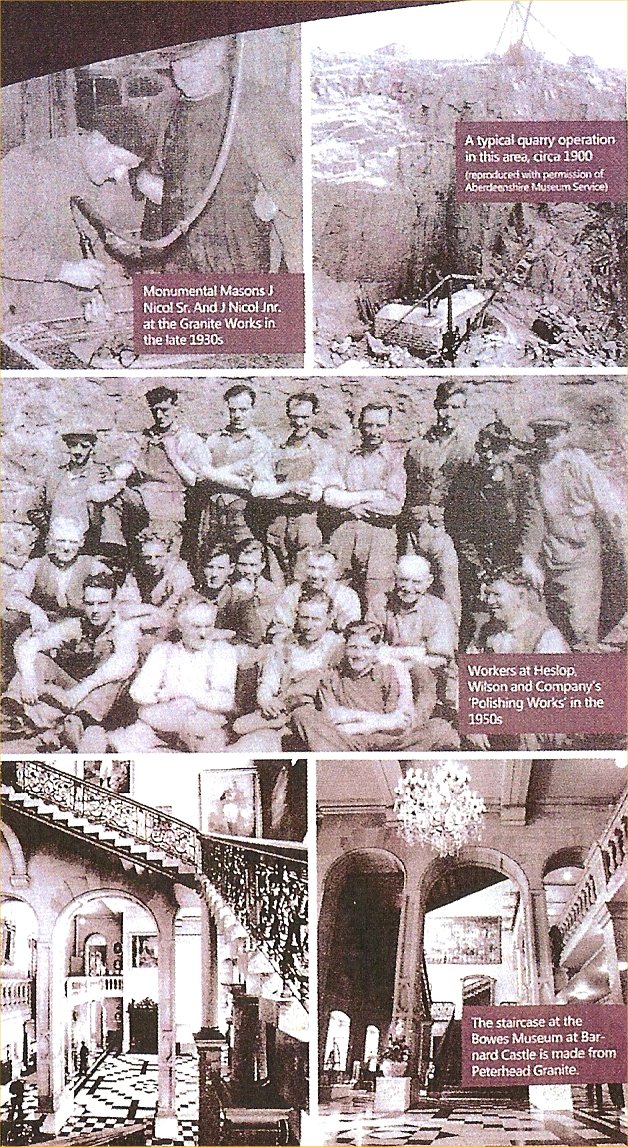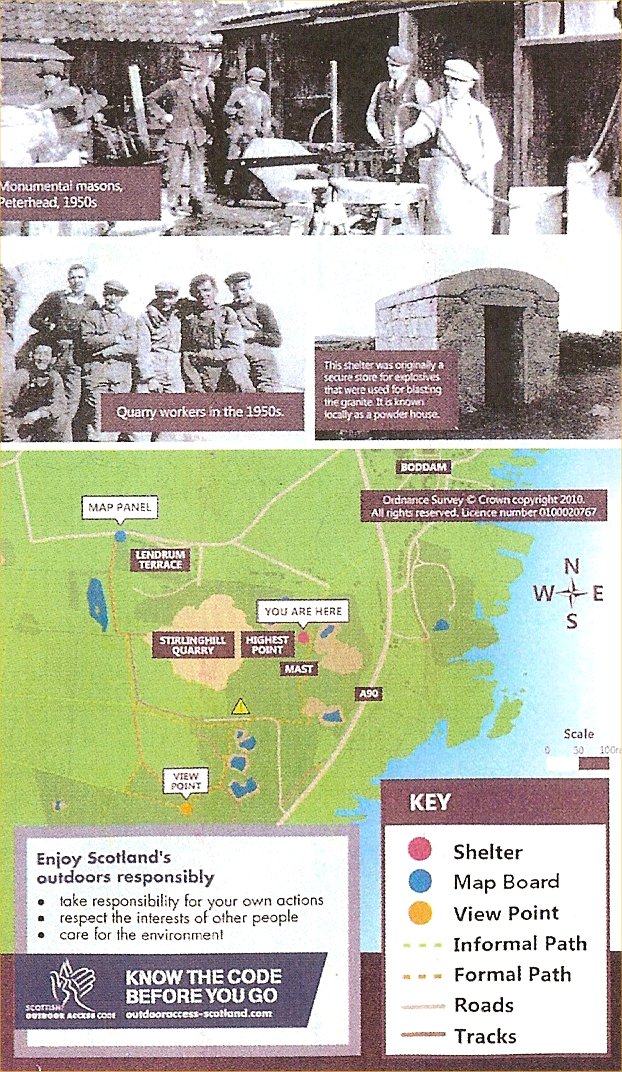 The coastal fringe between Boddam and Cruden Bay had over twenty granite quarries and Stirling Hill was the most extensively worked in the area. The red "Peterhead" granite is an excellent decorative and monumental stone. It has been used across the world for famous buildings and statues.
The granite in this area was formed over 400 million years ago from molten rock. Deep beneath a huge chain of mountains that were as high as today's Himalayas, the molten magma cooled slowly allowing the large crystals to grow. These hard crystals give the granite its strength. Erosion over many millions of years has worn away those mountains, exposing their "roots". The high cliffs along the coast are a testament to the resistance of the rock to the heavy pounding of waves over millennia.
The first quarry at Stirling Hill was opened in 1815 and there have been 11 separate quarries on the hill. Stirling Village grew as a result of the Granite Works that were built by Heslop, Wilson and Co. when they opened their first quarry at Stirling Hill in 1858.
In 1884, the Admiralty commenced construction of the breakwaters for Peterhead Harbour of Refuge. A railway was built between the Admiralty Quarry at Stirling Hill and Peterhead Prison to transport prison labour and granite. The stones were crushed at the prison yard and made into large concrete blocks. This huge project was completed in 1956.
Today Breedon Aggregates operates the only quarry on the hill, now known as Stirlinghill Quarry.
The red Peterhead granite from Stirling Hill and other local quarries can be found in some surprising places. The original fountains of Trafalgar Square were made in Aberdeen from Peterhead granite and the Duke of Wellington's Statue at Buckingham Palace stands on a pedestal of Peterhead granite. The stone can also be found in the Foreign Office and the British Museum. It was also used for the pillars of Blackfriars and Southwark Bridges in London.
The skills of the workers who produced the monumental stone were also exported round the world. Men went to Australia to dress the stonework for Sydney Harbour Bridge, to Cape Town, South Africa and Vermont, USA. Many granite workers from this area settled in these distant places.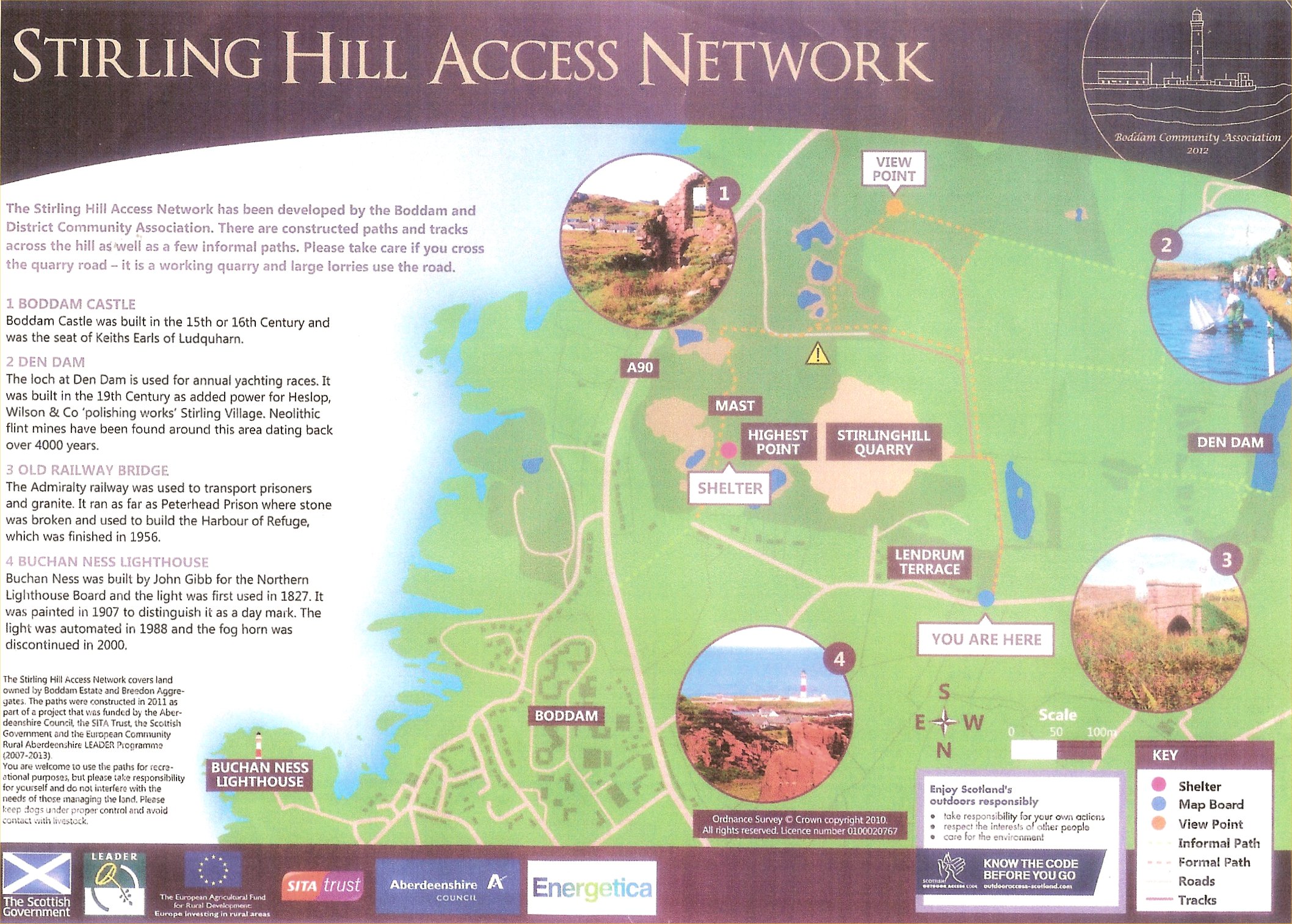 ---
Introduction | Brochure | Councillors |Community Association
Senior Citizens' Association | Amenities | Stirlinghill Quarries | Map of Area | Links
---
Enquiries : enquiries@boddam.org.uk